Learn Italian & Cities of Art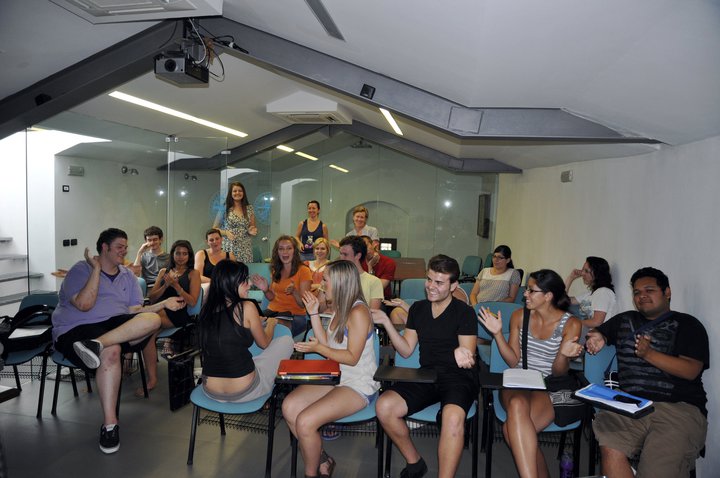 – Italian language and culture courses (80 hours)
– guided tour in Assisi
– guided tour at the Basilica of St. Francis
– guided tour at Eremo delle carceri
– lesson "discover Florence"
– tickets (bus or train) to Firenze
– lesson "discover Rome"
– tickets (bus or train) to Rome
– 3 relax afternoon in NUN-Assisi Relais & Spa Museum
– 2 wine tasting with a sommelier
– lesson/concert of history of music
– free wi-fi
– accommodation in the center of Assisi (independent flat)
– course books
– certificate of attendance
– certificate of evaluation
Lessons
Four hour lessons a day, from Monday to Friday enable you to develop your linguistic skills in a precise and graduated manner, leaving enough free time for individual study using all the facilities available at the Accademia. Staff of the Accademia are always available to guide and help individual students.
Books
Books and workbooks will be distributed at the beginning of the course. The Accademia is also open outside the class schedule: a library, video library, multimedia educational materials for individual use and the wi-fi are available.
2019 COURSE STARTING DATES
● 13th May ● 27th May ● 3rd June ● 17th June ● 1st July ● 29th July ● 5th August ● 19th August ● 2nd September ● 16th September ● 30th September ● 14th October ● 29th October
Price
The program (course+activities) costs 2400 Euro for accommodation in independent flat.
Extra weeks
If you would like to add extra weeks to your trip and would like a quote, please send as an info request.
Extra activities
Assisi, Umbria area, weekend art
Assisi is in Umbria, 120 kilometers from Florence and 200 from Rome (easily reached by train). Umbria is famous not only for Assisi but for many other medieval towns: Spello, Gubbio, Spoleto, Perugia, Montefalco, Trevi, Bevagna Castiglione del Lago, Todi. In Accademia, you can book guides and transport (minibus or taxi), or weekends in art cities (tours + transportation + accommodation in Rome, Venice, Florence, Pisa, Padua).
Shopping:  on request we organize transport for: 1. luxury outlet: a.    The Mall with the following brands: Giorgio Armani, Fendi, Gucci, Hogan, La Perla, Tod's, Valentino, Alexander McQueen, Bottega Veneta, Burberry, Emanuel Ungaro, Ermenegildo Zegna, Salvatore Ferragamo, Sergio Rossi, Stella McCartney, Yohji Yamamoto, Yves Saint Laurent. b.    Valdichiana outlet: Baldinini, Benetton, Basile, Calvin Klein, Bialetti, Coveri, Merrel, Nike, Ginori, Replay, La Murrina, Massimo Rebecchi, Marina Militare, Marina Yachting 2. the most famous companies producing cashmere based in Umbria: Arnaldo Caprai, Maria di Ripabianca, Brunello Cucinelli. 3. the historical cellars of the Rosso di Montefalco and the museum of the legendary wine cellars of Lungarotti.