Assisi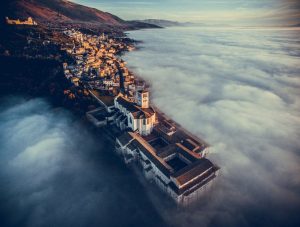 UNESCO collectively designated the major monuments and urban fabric of Assisi as a World Heritage Site.
Architects, masons and stone-cutters have given Assisi an incomparable appearance, and time seems to have come to a standstill before this beauty. The Middle Ages continue to reign supreme and the streets of Assisi are typical of medieval towns set on a hillside. The main roads are laid out longitudinally across the mountain, ascending to the main square of Piazza del Comune. Streets, alleys, arches, ascents and descents, and flights of steps cross these main roads vertically. Located along these streets are medieval houses, all of which were built with stone, quarried on Mount Subasio, that comes alive after a rainstorm, turns red in the warm sunset and is pale in the moonlight and during snowfalls.
Site of many a pilgrimage, Assisi is linked in legend with its native son, St. Francis. The gentle saint founded the Franciscan order and is remembered by many, even non-Christians, as a lover of nature.
Many artists have visited Assisi and have written or have been inspired by St. Francis. We mention just a few: Albert Camus, Paul Celan, Hermann Hesse, J.R. Tolkien, Nikos Kazantzakis, William Congdon, Allen Ginsberg, Rainer Maria Rilke.